Shopping Cart
Your Cart is Empty
There was an error with PayPal
Click here to try again
Thank you for your business!
You should be receiving an order confirmation from Paypal shortly.
Exit Shopping Cart
We had so much fun yesterday at the seminar.  We got to hook up the laptop to a projector it was really cool. Everyone seemed like they had a blast. They asked some really good questions and we even had a mini investigation. We taped the majority of the seminar. Here are the pictures.
http://s78.photobucket.com/albums/j109/urameshiproductions/Paranormal%20Seminar%20La%20Vista/
Omaha Paranormal Research Paranormal Seminar # 1
Part 1
Part 2
Part 3
Thanks to everyone there for listening to us.
So next week we have two Paranormal Seminars lined up for two different local librarys with teen programs. We are excited to meet everybody. We have 3 hours to work with at each location so we will have plenty of time to cover information and maybe even a mini investigation.
Recently I have been writing about my experience to The Farrar Schoolhouse and how Stacey, Danii, Steph, and myself got to investigate with the guys from Ghost Lab as well as the local historian and neighbor of The Villisca Axe Murder House Johnny Houser!
The post has been featured on The Average Sensitive Blog so feel free to drop by there and check it out!
The link to that blog is: http://theaveragesensitive.blogspot.com/2012/05/educational-night.html  labeled "An Educational Night"
It has come to my attention that a spammer has been inboxing members. Please delete any messages you think are spam. Also please report any other spams to me and I will take care of it. Thanks to everyone who has brought this to my attention so fast. Apperantly Mara was the one spamming. She just joined recently and It looks like they sent out alot of messages. Sorry for the Spammers.
Stacey, Danii, Steph, and Myself (Maggie) are excited to announce that we will be getting to attend a Paranormal Seminar in Maxwell, IA as well as an investigation of the Farrar School House in Iowa on May 5th 2012.  This event is being hosted by The Klinge Brothers of Everyday Paranormal (The creators of Ghost Lab.) and Johnny Houser (Caretaker and neighbor to The Villisca Axe Murder House.)
They are gonna apperently record it for their new show called The Dead Truth, coming soon to Paranormal RealityTv. Since it is going to be recorded for the show I heard only 17 tickets are being sold 10 of which were left as of last week. Now there should only be 6 left since 4 OPR members will be attending. We are all exctied to be able to meet everyone and go to Farrar to investigate!
We will post more info on it as more information comes available. Full event info can be found here: http://www.everydayparanormal.com/?q=node/3
Happy Haunting everyone!
Hello everyone! I am trying to blog more here to keep everyone up to date on what is happening with Omaha Paranormal Research on a weekly basis.
Investigators:
I am pleased to announce our new member Aly! If i haven't done so yet... Welcome! I love the fact that so many people want to investigate with us. Due to the large number of forms that are coming in to join, we have a waiting list. As much as I hate to do that because I would love to work with everyone, our group is growing fast and I really want to avoid drama relating to who can and cannot go to smaller investigations were not everyone can come. We have not had this problem as of yet but it doesn't hurt to plan ahead. So don't get discouraged if you're on the waiting list. I keep all forms and will contact you in the order received when a slot comes available.
Video:
I made a one hour video called A Haunting In The Midwest. Now I figure there is probably already a video out there with that name but it was kind of an inside joke between my friend James and I because we both love that show "A Haunting". The video was originally made to air on our Blogtv channel that revolves around the paranormal, as an intermission video. So some night when you have the time feel free to check it out.
A Haunting in the Midwest:
http://www.youtube.com/watch?v=xOqgPqWJBG4
It was uploaded on Aly's YouTube, as well as the O.P.R YouTube. Also this video was featured on Aly's Blog. You can find her blog here. http://theaveragesensitive.blogspot.com/2012/04/haunting-in-midwest.html
Investigations:
Recently we have done sage cleansings and private in home investigations. I love working with sage it smells good and so does the protection oil. O.P.R offers sage cleansings at client request, usually after investigations.
September is fast approaching and with September brings our all exciting investigation at The Villisca Axe Murder House. For those investigators who are in O.P.R should have received a Facebook event. Currently we have the groups selected. One slot is still available so everyone who hasn't said they are for sure coming (The ones who haven't chosen yet or the people on the maybe list) need to decided and change your status on the event.
The groups will be decided on April 9th and posted on the facebook event. We have 177 days left before Villisca! I have personal always been interested in investigating there. It has always been my dream. I am glad that we have our date for the investigation. We will have around 12-14 hours to investigate. Make sure to buy 5 hour energy, pop, coffee, sugar, or whatever you need to stay away. The only ones allowed to sleep are the drivers.
I have done allot of research into this house. Since it is a paranormal hot spot for many different paranormal groups, I like to see what evidence they find so I have some idea what to look for, or try to debunk. Example: The closet door in the kid's bedroom opens and closes on its own. I believe since the house is old and drafty it could simply be the wind, especially since there are holes in the back wall and ceiling of that closet. I will post more later on this subject.
Have a great day all!
P.S Dont forget we have a forum now! Please help us in filling it up with paranormal topics. Having problems with posting? Contact [email protected]
The site is finaly finnished, so what changed? The Background and Banner changed , forums were added, as well as some other little things that you can figure out on your own.
The long awaited forums have finaly gone live after days of preperation. They have been waiting to be worked on for a year I just had not had time to work on it till now.
Hope you all enjoy the changes!
The site is currently undergoing maintenance.I am trying to give it a new look for the new year. If certain links do notwork or something looks un finished or buggy please give it a few days. Ifproblems persist please contact me at [email protected] thanks.
Hope everyone enjoys the new site.

Finaly got the Haunted Hollow EVP's on the site. Enjoy
Most case file photos are not shown on the photo page. All of them can be located on the case file page. There are links that go to a photobucket site in the case files so be sure to check them out. Have a great day.
So on February 21st 2012 Omaha Paranormal Research had it's first paranormal presentation!!!  It was alot of fun. The class was awesome, they had alot of good questions and were very interested in what we do. Thanks to everyone at St. Bernadette Middle School for having us. Here is a picture they took. Next time ill remember to get pictures of everyone.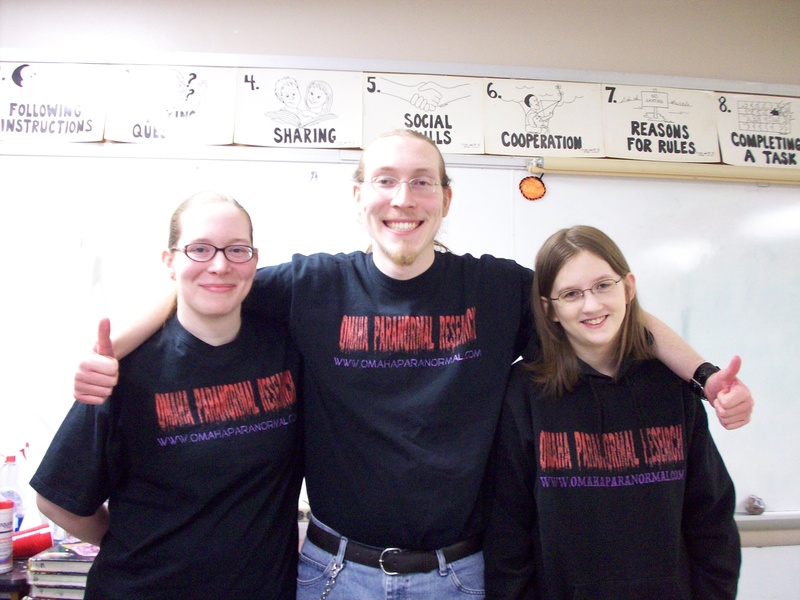 /